No doubt it's chili season, even though today was a pretty decent day with temps in the 30's during this cook.
Gathered up the fixings. (The Pacificos will be consumed by the cook, and not used as an ingredient)
Not pictured is the bag of frozen tomato's from this years garden.
The ground beef was placed loosely on frog mats interspersed with onions. This was lightly seasoned with BPS Little Louie's and Soileaus. Then on to the MAK for 30 minutes of smoke.
After 30 minutes the meat and onions were taken inside and chopped, then into the cast iron pot for some more browning...looked like this just before the rest of the ingredients were added.
The chili was then simmered uncovered on the smoker for a while and then simmered covered on the stove for a few more hours. Now for some extras...
The little pies on the left are strawberry with a chocolate truffle (or two). The pies on the right are chili and the top two chili pies will be covered with cornbread mix instead of pie crust. The chili pie and cornbread chili pies are experiments and will be made in larger sizes if deemed worthy.
About the cornbread...I'm the only one in the family who likes cornbread...I need to change that. My wife says cornbread is too dry. I told her I was going to try a cornbread recipe from one of our forum members...she urged me to try one from the Internet (you know, with ratings, so you know what people think). I told her it was Deb's recipe...she said, "Oh, ok." So Deb, no pressure here, right? Read more about Deb's recipe here:
http://www.pelletsmoking.com/pelletsmoking-com-gallery-10/cornbread-2570/
So here's the cornbread and pies, (this is a 14" skillet, so I multiplied the ingredients by 1-1/2)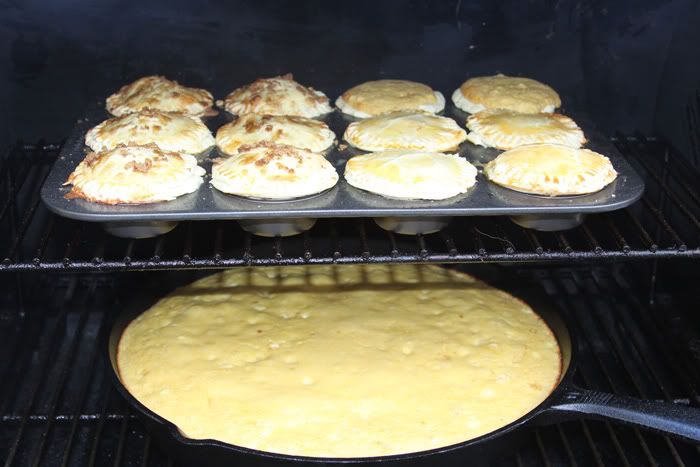 Just about done.
Brought the cornbread in to rest, (skipped the bacon and garnished with jalapeño slices).
First up is chili in a bread bowl, this was very tasty!!
Next up was cornbread, cornbread chili pie, and chili pie. First off lets just say I'm not the only one who likes cornbread anymore! The cornbread was awesome! Very moist without being gummy, and very tasty too! The cornbread chili pie and chili pies were also very good and merit further experimentation. Next time I will partially bake the shells before I add filling and topping (I already had the filling in before I remembered this, sigh).
Here's a strawberry chocolate truffle pie. I have made these before so it was no surprise how good they were. Man am I full!
Thanks for sharing the cornbread recipe Deb!