A buddy of mine from the forum sent me a goodie box with several rubs in it. I decided to cut up four racks of Baby Backs and make ribs 8 ways. To emphasize the flavors, all will be dry rubbed for the taste test.
I spent last week in Florida, had some real nice weather...missed a rare 70 degree Feb day back home while we were gone...got home about 11pm Friday, the snow started around midnight.
The ruler is in to the 9 1/2 inch mark.
Back to the cook, here's the players. Four are rubs I had, four are new to me.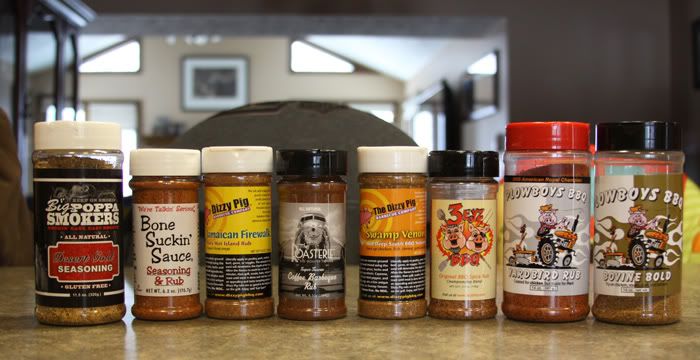 Gradassi's EVOO with chili was used for glue on all ribs. The ribs were put on at 225 for about 30 minutes, then bumped to 275 for 90 minutes. They were flipped and also rotated. Here they're about ready to be foiled.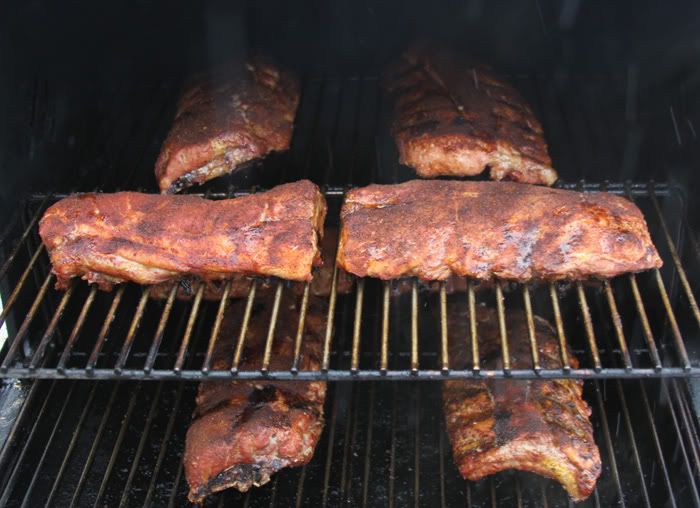 This 1/2 rack is BPS Desert Gold.
This one is Roasterie Coffee.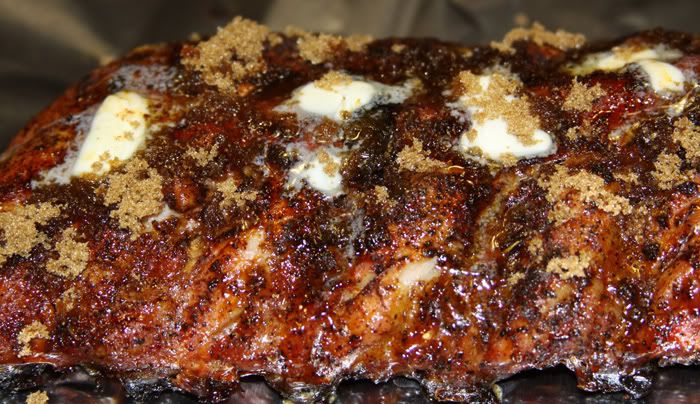 The snow started up again and continued throughout the cook. I got covered in snow each time I was tending the MAK. The foiled ribs were cooked another hour at 275.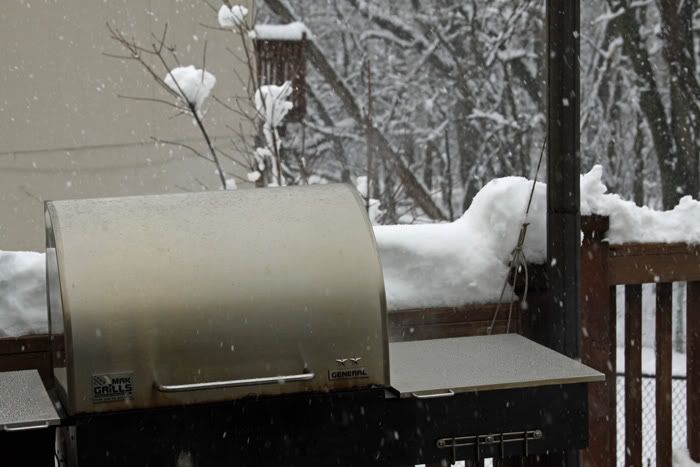 After foiling, each rack was given another coat of rub and finished unfoiled until done. I normally sauce my ribs, but these look pretty tasty!
Here's the lineup. From left, Desert Gold, Bone Sucking Sauce, Jamaican Firewalk, Coffee, Swamp Venom, 3EYZ, Yardbird, and Bovine Bold.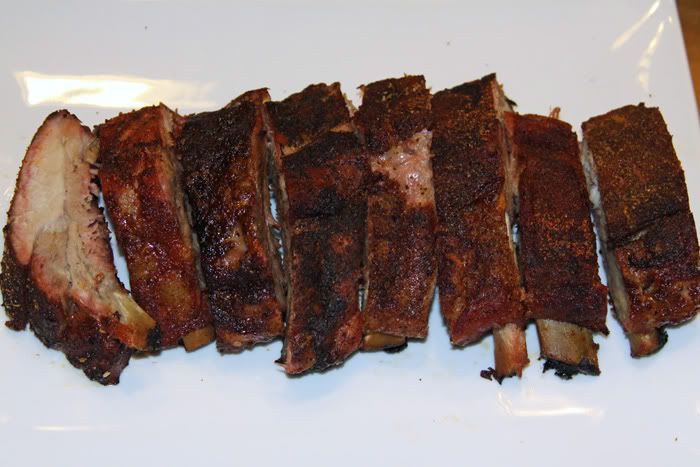 Caveats:
I'm not a rub expert, just giving my opinion. (This was mostly an excuse to try some different rubs and get to eat 8 ribs instead of 5). I'm not going to rank them, just give opinions. I will also post this in the Gallery so folks can add their experiences.
The results:
Listed in the order tested.
BPS Desert Gold. Most of you know this rub. I use it extensively on chicken and veggies, especially on potatoes. I was pleasantly surprised at how well it worked on ribs.
Bone Sucking Sauce. I like the flavors here, just too sweet for me. (Go figure, from someone who uses brown sugar a lot on pork)
Dizzy Pig - Jamaican Firewalk. I like the medley of flavors at work here. Also has a hint of heat. I found it a little too sweet. I think this would be great on chicken kabobs.
Roasterie Coffee. Sampling this rub it shows a strong coffee flavor which is much more subtle after cooking. If doing again I would really layer it on. I can't wait to try it on brisket or tri tips with balsamic coffee for glue!
Dizzy Pig - Swamp Venom. I liked the flavors at work here....just not on pork. I'll be trying it on fish and veggies. I think it would be good in stir fry as well.
3EYZ - Another well known rub. I've used it before on ribs and like it a lot. I usually add some cayenne for extra heat. It was interesting to try it without sauce.
Plowboys Yardbird. Another favorite of mine. It's my go to rub for ribs.
Plowboys Bovine Bold. Another workhorse from my spice drawer. Like Desert Gold, it held up well for ribs...but I prefer it on chicken, beef, and veggies.
This was fun, the kids weren't crazy about not getting my tried and true ribs and they weren't any help on the taste test either.
Thanks for the rubs buddy!