Finally got Money and Happy Endings last week, time to put them to the test.
First up, Beef Filets. We like our filets pretty minimal. It took a while to work my wife into trying them with BPS Double Secret, but for the last several times we've settled in on Dbl Secret with a dusting of chili powder and a cayenne/habanero powder.
For this test, some were done as described above and the rest got BPS Money. Balsamic with coffee was used for glue on all.
Cooked at 275 with cherry pellets, flipped at 110, no sear.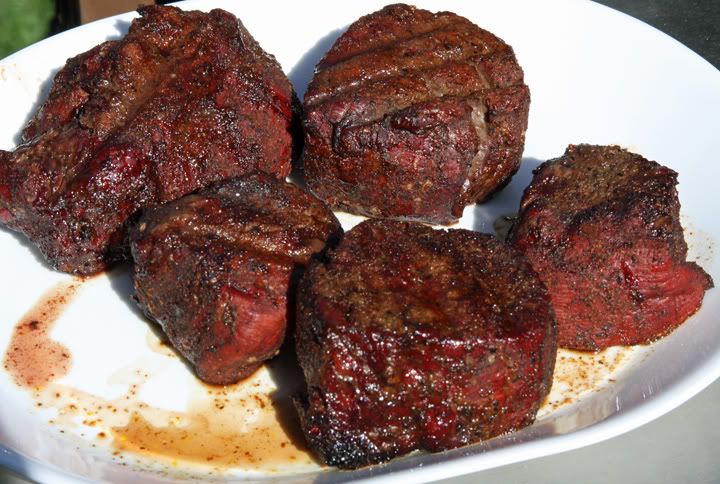 Another busy weekend around here so going simple with mashed potatoes and steamed broccoli.
The verdict: We loved Money! As described by someone on the forum earlier, it does have a slightly sweet start with citrus overtones, very interesting! However, it was different for us to have 'sweet', however slight, on a filet. Not complaining! This is an observation about what my wife and I expect. This is more of a tradition thing and not a complaint, we both agreed the flavor was awesome. I did some experimenting with adding a dusting of Happy Endings to the Dbl Secret cooked filets and we both thought it punched it up noticeably. Next time I think I will dust first with Happy Endings, then use Double Secret as usual. I'm looking forward to trying Money on other cuts of beef (where my flavor profile is less rigid) like Tri Tips and Brisket. With every bite I was thinking I've got to try Money on pork!
Did somebody say pork?
I just happen to have a triplet of ribs...more balsamic with coffee and lots o Money!
On to the MAK with Hickory and ~30 minutes of smoke, then 275 for about 2 1/2 hours, I liked the color and decided to do some schmear experimenting...first I enlarged a few photos of other folks schmear and did a chromatic analysis of the pixels to discern the ingredients, (kidding), then I made a liquid version of the kinds of things usually put in foil love. Not sure how it will taste, but I like the way it looks and melts! The one in the back will be sauced with hot wing sauce, so no schmear.
Made some baked beans too..brown sugar, ketchup, (a little Money!), and generous handful of leftover pulled pork. I keep ~5oz size bags of vacuum packed frozen pulled pork for just such occasions.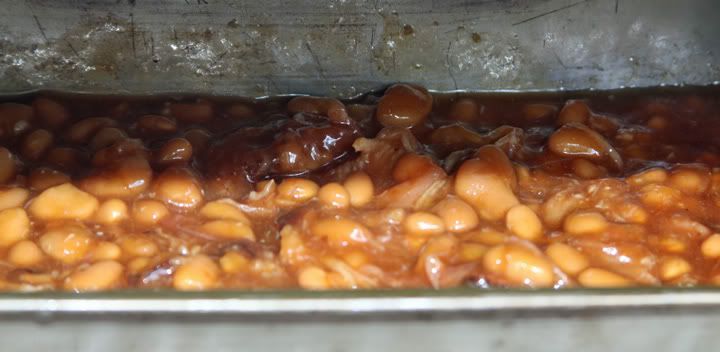 To be continued...