Hey Ya'll,
Wanted to let you know that the new
2016 MAK 2
and
2016 MAK 1
Pellet Grill & Smoker are both available at Big Poppa Smokers. I'm including some new features and info below for those of you who may be interested.
MAK 1 Star Pellet Smoker-Grill
The new and improved MAK 1 Star Pellet Grill is currently at a 2-3 week lead time, and features the new FlashFire ignitor, expanded cook space (429 sq. in.), increased height (+5"), Pellet dump chute, front shelf upgrade, automatic auger stop (safety first!!), split cooking grate, and slide in rack system with 1/2, 3/4, and full racks available (like the MAK 2). If you're looking for a "made in the USA" pellet smoker, you really can't beat the MAK 1 when you compare it to others in its class.
MAK 2 Star Pellet Smoker-Grill
The 2016 MAK 2 Star Pellet Grill & Smoker features the new FlashFire ignition system and a new "scratch hide" 304 Stainless Steel finish. As some of you may know, the FlashFire ignitor system has been revolutionary in the pellet grill world - and it's exclusive to MAK! With the FlashFire system, ignitor failure a thing of the past and your pellets are lit within seconds. Fire within 60 seconds, full firepot ignition within 2.5 minutes, rated for 90,000 on/off cycles for at least 20 years of service life. Of course, MAK has made the FlashFire available to those who already have a MAK and want to upgrade their grill - you can buy it
here
. Once again, MAK has proven that they are at the forefront of pellet grill technology. Yet another reason why the team at BPS loves cooking on/selling MAK Pellet Smokers:
we feel confident that our customers are investing in the best of the best!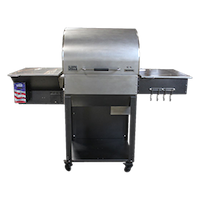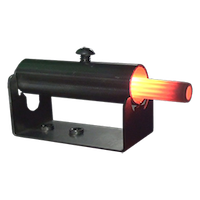 Heavy-duty construction, versatile, made in the USA, exclusive technology, and consistently delicious food - you really can't go wrong with a MAK!
Of course, Big Poppa Smokers always offers Free Lift Gate Delivery within the continental US, along with outstanding customer service. If you have any questions about MAK Pellet Grills & Smokers, give us a a call at 877-828-0727. If phones aren't your thing, shoot us an email at
[email protected]
!