Kona Filet, Garlic Spuds, Cukes & Cream
I haven't purchased beef in such a long time I'm guessing it was about a year ago. So I went ahead an picked up a whole tenderloin to have fillets. I happened to just open a fresh bag of Kona coffee the day prior and thought to myself 'bingo' I know whats for dinner... Away we go.

I prepped the fillets with a lite brushing of EVOO, then a light dusting of DSSR and the Kona coffee. Let that sit for an hour before cooking. Onto the grill.




In the morning I prepped a side dish of fresh cucumbers & sliced onions in a dilled vinegar cream. Let that sit for 8 hours and meld together. During my lunchtime cook, I roasted some garlic (using the foil method) to have ready for garlic mashed potatoes. This all came together and looked like this:




And a close up of the steak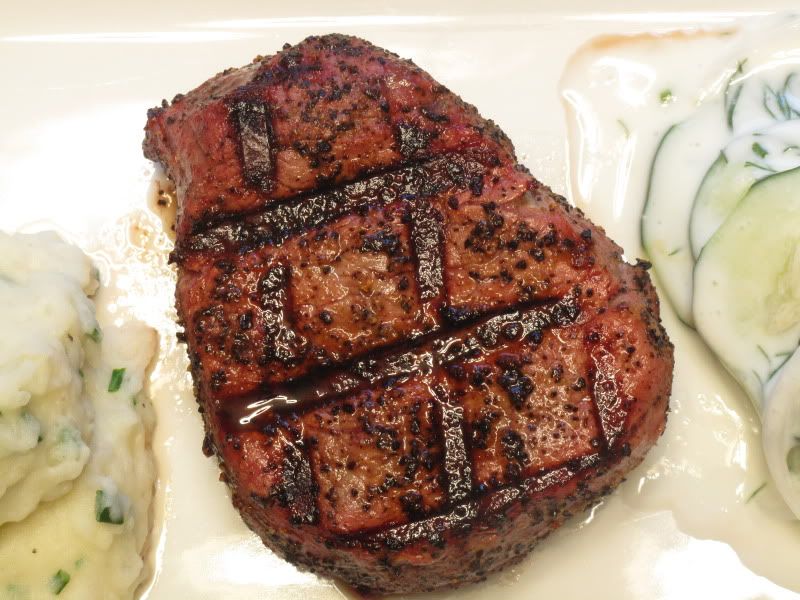 I have to admit it turned out better than the picture. Shouldn't have used the white plate for the white foods! Anyways, the steak turned out awesome. Very juicy and flavorful. Cooked to 140 IT and rested for about 8 minutes, perfecto. Of course garlic mashed taters with chives is always a winner. It did not let down. The cukes & onions were a nice cool side to lighten up you palate in between bites of filet and spuds. Glad it still feels like summer here.